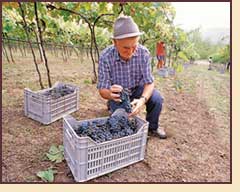 15 hectares out the 50 owned by the farm produce the typical D.O.C. wines of Romagna, in the traditional "renewal spur": Sangiovese, Albana, Cagnina. Cabernet-Sauvignon and Chardonnay are also produced. Cherries are grown on about 11 hectares of the farm, following a tradition of our zone.


The use of synthesis products has been strongly reduced, privileging the integrated fight. This is possible thanks also to the particular hilly microclimate, that does not favour the peronospera's assaults as in plain, allowing therefore a limited use of chemical treatments.

The grapes are harvested by hand and the bunches carefully selected: this means that only the best grapes reach the cellar; the controlling of temperatures, of wine-pressing and of the maceration times lead to wines of good structure, with pleasant flavours and rich tannic impressions. Finally the maturation phase takes place in traditional wooden casks.