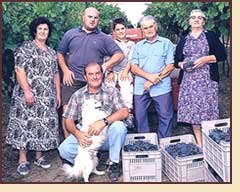 The " Montelorenzone" Winery
is located approximately 10 km west of Cesena, on the first hills of the Apennines (360 m. above sea level) that gently rise from the plain.


It is a comparatively young winery,
owned by a family named Campana
: the grandfather Aurelio is still active among vine rows, but his son Adelmo and his grandson Gianluigi (the third generation) are actually running it. They have modernised the production renewing both the vines and the wine cellar technology.